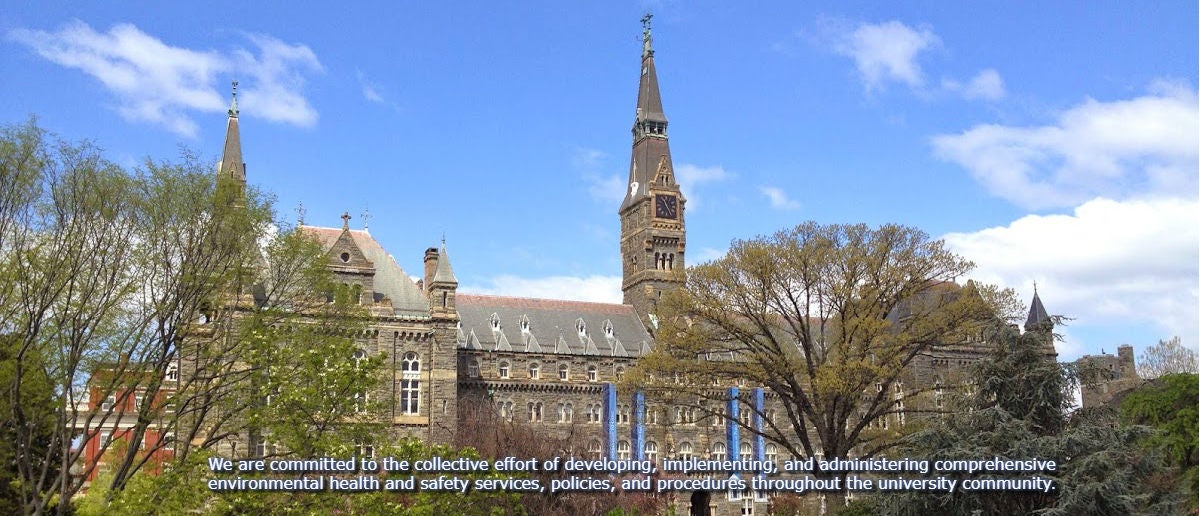 The purpose of this website is to provide the tools and pertinent safety information (e.g., policies, procedures, forms, etc.) to promote a safe and healthy work environment while maintaining regulatory compliance with applicable standards and guidelines. Although our areas of control are those listed above, please call us at (202) 687-4712 with any safety concerns or questions you might have. We are here to help.
The Georgetown Safety Management database houses actionable and real-time information. This enables EH&S to reduce risks and to ensure required compliance with local and federal regulatory agencies. The information is entered by functional areas and EH&S to optimize environmental health and safety performance.
Portals for this database are included below:
Training videos for accessing and entering information into the Chem Bio Portal can be found here.
Emergency Contacts
SAFETY-RELATED INCIDENTS

MEDICAL EMERGENCIES

TO REPORT WORKPLACE INJURIES

Work hours: EH&S at (202) 687-6640

After hours: Georgetown University Police Department (GUPD) at (202) 687-4343

Georgetown University Police Department (GUPD) at (202) 687-4343

Risk Management at (202) 687-6622